First things first, I cannot begin this review without acknowledging the fact that ARAABMUZIK's "Streetz Tonight" was recently bestowed with the honour of being one of Pitchfork's "Best New Tracks". I am not going to sit here and pretend like Salacious Sound was the first one to hype ARAABMUZIK, nor am I going to rewriteBrandon Soderberg's recent review of "Streetz Tonight" (see here). However, I am going to explain to you why ARAABMUZIK's Electronic Dream is one of the best electronic releases of 2011. But first I need to give you some background and rationalize a Pitchfork reblog. (before an angry mob comes after me with their sharpened pitchforks [pun intended]) My hopes are that this won't be seen as just another Pitchfork reblog.
Recently, it seems that Pitchfork has been experiencing its fair share of criticism throughout the independent music community. From Hipster Runoff's satirical take on Pitchfork's rating system to the countless comments on internet forums and blogs condemning Pitchfork's haughty rule over the music blog kingdom, it seems as though there has been a sudden backlash against the almighty Pitchfork. In some ways this is a good thing because it is evidence that music listeners no longer want to be told what is good, they want to decide  for themselves. It is healthy to listen to music with a critical mindset and a discerning ear. The problem with Pitchfork is that they have created a legion of listeners who's taste in music is the same as theirs. You know who I'm talking about, the kind of people who go out and buy every "BNM'ed" album without even listening to it. Saying that, the writers over at Pitchfork write good reviews. They generally seem to know what they are talking about.
Although, I may disagree with some of their reviews or completely despise the latest "Best New Album" (sorry, but I still can't understand why anyone likes EMA's Past Life Martyred Saints) I still have to admit that they are skilled music critics. I mean,they wouldn't get so popular for nothing…would they? So despite their flaws and criticisms I must admit that the writers over at Pitchfork are capable of writing good reviews (usually). One thing they are especially good at is discovering up-and-coming talents. So getting back to the subject of this post, ARAABMUZIK, let me just say this: Pitchfork got it right!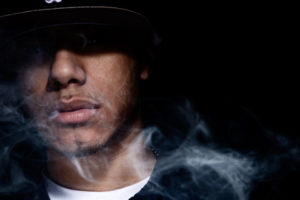 ARAABMUZIK's second official release Electronic Dream is just that, an electronic dream. ARAABMUZIK is the project of Providence, Rhode Island native Abraham Orellana. In 2006 he was signed to rapper and hip-hop producer DukeDaGod's Diplomatic Records. Before the release of Electronic Dream, ARAABMUZIK was known for his production work on Dipset rapper Cam'ron's  Crime Pays album, Cam'ron & Vado's 2011 album Gunz n' Butta, and The Diplomat's 2010 single "Salute".
Although Electronic Dream does posess qualities of hip-hop, elements of house, club, and trance squeak their way in there. Well actually, they do more than squeak in; Electronic Dream sounds more like a club-friendly, trance album than an instrumental, Dilla-indebted hip-hop mixtape. Proof of this is the sample of Kaskade's "4am" in the lead single "Streetz Tonight". ARAABMUZIK lifts the airy vocals of "4am" and places them amid euphoric house melodies and a steady but stuttering drum beat.
A feeling of euphoria abounds throughout Electronic Dream with its soaring diva-soul vocals and crisp drum-machine beats. Orellana doesn't slow down and he keeps the ecstatic club-bangers coming until the final second. The album closes with "Lost In a Maze", a sublime melange of soulful female vocals, ethereal MPC patterns, pounding drums and the familiar hip-hop exclamation "Ayyyy" sampled in the chorus. It all makes for a rapturous and invigorating listen. Although certainly one of the most surprising releases of 2011, Electronic Dream is also one of the most exciting. So before Pitchfork beats me to it (wink wink) I would just like to say that ARAABMUZIK's Electronic Dream is one of my favourite electronic releases of 2011 thus far. So, all you "music critics", lend an ear to the sultry sounds of Electronic Dream and decide for yourself. Do you like it? Do you hate it?  Let me know what you think/////
Original post: http://salacioussound.com/2011/06/you-are-now-listening-to-araabmuzik/.